---
Features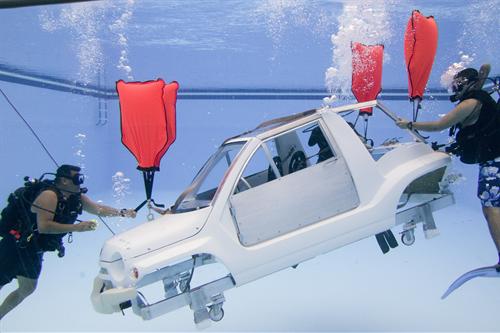 Aquatic Center Builds U.S. Homeland Security
Paving the way to increase U.S. Homeland Security, the new and innovative Aquatic Center at North Campus recently opened to train students at MDC's School of Justice and Fire Academy. The $6.8 million state-of-the-art facility gives MDC the first water-training center in South Florida.
"The Aquatic Center is an excellent example of the vital role MDC has in training for fire rescue, law enforcement and maritime agencies," said North Campus President Dr. José A. Vicente.
With more than four million passengers going through U.S. ports annually, the need for a waterborne Homeland Security tactical training program is crucial, explained Dr. Hector García, MDC's director of the School of Justice.
"Dive teams need training," García said. "Our new Aquatic Center makes MDC the perfect place to build those skills. Our students can learn real-world underwater rescue techniques. They also learn how to extract victims and collect evidence from the most challenging crime scene, which is underwater."
The facility has two pools. One measures 40 feet by 60 feet and has a 12-foot deep Myrtha dive training pool complete with an underground observation room where professors can observe students and then instruct them on how to perfect their techniques. It features dive platforms to simulate water entry from a dock, boat, bridge and/or helicopter. A one-of-a-kind vehicle prop supports instructional training simulations as is it lowered into the pool. It holds up to 370,800 gallons of water. The other pool measures 75 feet by 112 feet.
"This facility has received a number of certifications and is authorized by the American Red Cross as an official health and training facility," Vicente said.
– Staff Report
More Features Articles