---
Features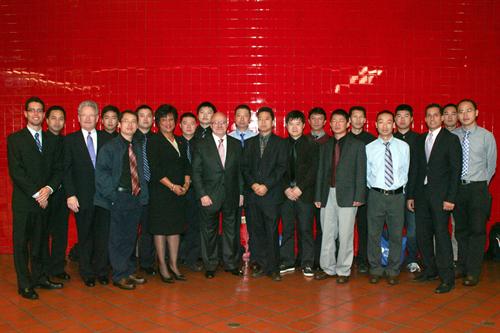 Partnership Improves Aviation Safety in China
When it comes to aviation, safety concerns come before all others at MDC's Eig-Watson School of Aviation, which is world-renowned for its training. Having worked for years with aviation experts from China, MDC is now making that nation's air system even safer as China rapidly builds new airports and runways.
Recently, 22 Chinese aviation experts came to MDC to increase their knowledge of safety management systems, runway safety and air traffic control. To kick off the program, they traveled to Washington, D.C., and participated in an Air Traffic Control Association conference and exhibition, where they met with safety management system and runway safety specialists from the Federal Aviation Administration (FAA). They also visited the FAA's central command center in Herndon, Va.
FAA as Model
The group learned how the FAA handles the national airspace system, said Diana D. Lewis, director of MDC's Eig-Watson School of Aviation. "There is no central command like this in China," Lewis said.
After the Washington visit, the group headed back to Miami where they met with other FAA experts and representatives from the International Air Transport Association and American Airlines. They also visited air traffic control towers and discussed safety issues with controllers at local airports, including Miami International Airport, Fort Lauderdale/Hollywood International Airport and Fort Lauderdale Executive Airport
The valuable lessons this team acquired through its MDC experience will have a large impact throughout China.
Far-Reaching Improvements
"They will take what they learned here and use it to train many other people in China," Lewis said. "And we are applying  what  we learned from this training into the curriculum at Miami Dade College."
The College plans to continue expanding its relationship with aviation officials in China.
"The Chinese market is major, and we are making great efforts to build on the far-ranging educational ties we have been creating between China and MDC," said Wei "Rosey" Yang-Krivak, MDC's director of International Partnerships.
— JD
More Features Articles