---
Features
New Culinary Institute Offers Epicurean Excellence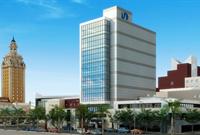 Rendering of MDC's Culinary Institute at Wolfson Campus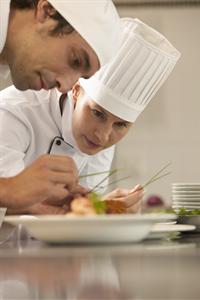 When MDC's Miami Culinary Institute (MCI) officially opens the doors to its new state-of-the-art facility at the Wolfson Campus this month, South Florida's gastronomic scene is in for a real treat. Blending the latest technology, sustainability, innovation and world-class education with the finest hands-on culinary arts training, it is sure to turn Miami into an epicurean mecca.
Building upon MDC's rich history, the Institute will reinvent food culture locally through its internationally informed approach to global consciousness. It offers a curriculum steeped in green-sustainable food and energy technologies under the guidance of Chef John Richards, MCI director. Richards and his awardwinning faculty and staff have created the perfect recipe for success: mixing the highest-quality food and beverage enthusiast programming with customized professional development for corporate and educational partners around the globe. "Our curriculum has been formulated for revolutionary thinkers, for those who are passionate about food, people and the planet," Richards said.
Unbeatable Option
The first public option south of Orlando under an accredited institution, MCI will offer an Associate in Science in Culinary Management. Tuition for the two-year program will cost less than half that of a private culinary school.
While the tuition is unbeatable, so are the top-notch facilities. The eight-floor, green-certified, $22-million building has a sleek glass façade allowing natural light to bathe its interior. Metal and glass features indoors are complemented by decorative touches of reclaimed wood and other recycled materials.
Multimedia classrooms and labs offer the latest technological innovations, including integrated webcasts that simultaneously link students at MDC with any spot on the planet where the Institute's many partners are located and can present their unique lessons on fields as diverse as wine-making and the use of organic produce.
Both MCI full-time students and local "foodies" will benefit from the Food and Wine Theater/ Studio, where star chefs will give cooking demonstrations through webcasts and broadcasts. Short-term courses will be available in MCI's Enthusiasts Program, catering to food and wine lovers who may not be full-time students but nonetheless want to learn more about the culinary arts, wine appreciation, starting and runing a restaurant, and much more.
Star Chefs on Council
The Institute's curriculum is shaped in part by MCI's Chef Council, consisting of some of South Florida's crème de la crème culinarians, including Norman Van Aken, founder and chef of Norman's 180; Michelle Bernstein, founder and chef of Michy's and Sra. Martínez; Philippe Ruiz, executive chef at the Biltmore Hotel's Palme d'Or restaurant; Michael Schwartz, founder and chef of Michael's Genuine Food & Drink; and Douglas Rodríguez, founding chef of OLA and De Rodríguez Cuba on Ocean.
"The Chef Council has been instrumental in keeping us abreast of the current culinary market's demands and needs, locally and worldwide," said Victoria M. Nodarse, MCI culinary coordinator.
In teaching an innovative approach to environmentally sustainable cooking, MCI aims to create a whole new generation of "green" gourmets. Teaching kitchens – including the baking, pastry and culinary labs on floors four, five and six – have been equipped with state-of- the-art green technology, earning the Institute a coveted Gold Leaf Certification. The exemplary Somat pulping system, for example, efficiently reduces waste by more than 80 percent, turning it into compost.
Those seeking gastronomic thrills will enjoy the seventh floor's Chef's Table, where they can vie for the ultimate culinary experience in mano-a-mano tastings with the Institute's star chef.
Crowning MCI is the top floor's four-star restaurant, with impressive downtown views, beautiful floors made from reclaimed tree trunks and an energy-efficient fireplace. It will be both a haven for patrons seeking nonpareil dining escapades and a launching pad for talented MCI graduates beginning their careers.
"Our commitment to realistically preparing students for the industry is not just a promise, but an approach engrained in the very fabric of our program," Nodarse said. "Our philosophy is very pragmatic in nature."
— HP
More Features Articles