---
Features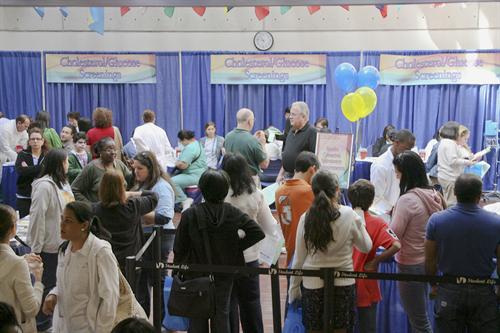 Health Fair is Perfect Prescription for Community
As MDC's Medical Center Campus completed its sixth consecutive Community Health Fair this spring, a great feeling of pride for the College's service to others overcame Madeline Pumariega, dean of Students and Administration.
"A lot of health fairs come and go," Pumariega said. "But we have been able to sustain ours over time because of the dedication of faculty and students. The students, under supervision of the faculty, do all the screenings and are able to put into practice what they have learned in the classroom."
Each year, the Health Fair provides free medical services, including  screenings for heart disease, glaucoma, high blood pressure, glucose and cholesterol levels, along with mammograms and analysis of a wide variety of other medical issues.
Only Check-Up, for Many
"We see some patients who come in and say, 'I come to your Health Fair every year. It's my annual checkup,' " Pumariega added. "It's sad that it's the only access to a doctor they get. But it's also inspiring that we are really changing people's lives."
At this year's Health Fair, seminars conducted by MDC faculty covered issues such as asthma, diabetes, prenatal care, nutrition, HIV/AIDS, dental care, heart disease, cancer prevention and smoking cessation. Chair massages and dental screenings were also provided to those who attended.
"This year's Health Fair provided an opportunity to improve our community's health and develop new strategies that will impact so many lives in a positive manner," said Dr. Armando Ferrer, president of MDC Medical Center Campus.
Free Counseling
Pharmacists from the Florida Pharmacy Association were on hand to give attendees counseling after their screenings in order to help them adjust their lifestyles accordingly.
An added element in this year's event was the presence of on-site doctors, sponsored by Care Access.
"The doctors were there to talk to any attendees who had above-average screening levels," Pumariega said. "The doctors were able to discuss what further tests would be needed and helpful ways to reduce those high levels."
— WV
More Features Articles