---
Features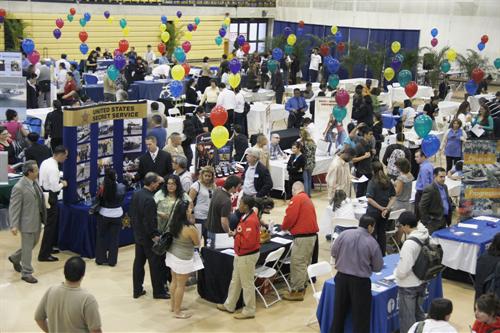 MDC Job Fair Links Graduates to Jobs
While South Florida's unemployment rate continues to hover around 12 percent, employers are finding great new employees at Miami Dade College to fill their coveted job openings.
Each spring for more than 20 years, Kendall Campus' annual Job Fair has attracted hundreds of job seekers and scores of employers. This year, more than 50 companies attended from a wide range of industries, including health care, government, hospitality and tourism. Among those at the fair were Terremark Worldwide, UPS, Charter Schools USA, Mandarin Oriental Hotel Group, the City of Miami, Lowe's and Miami International Airport, to name just a few.
"Employers like the idea of hiring candidates at Miami Dade College," said María de Armas, MDC assistant director of Advisement and Career Services at Kendall Campus. "The quality of Miami Dade College's graduates is very well-known throughout the community and among employers and businesses both in Florida and across the nation."
With competition stiffer than ever in the current economy, MDC once again offered its job-preparedness workshops for students, who were given priority in accessing the employers at the Job Fair. As in years past, students received guidance in writing résumés, dressing for success and interviewing, among other advice.
"We're confident we will learn of many success stories that came out of this spring's Job Fair," de Armas said. "MDC is well-respected in the community, and companies are always very eager to hire our students."
More Features Articles