---
Features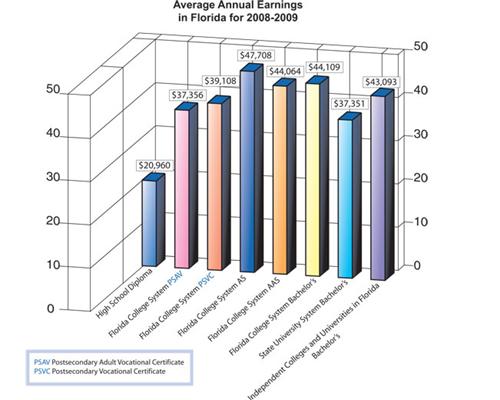 MDC Degrees, Certificates Pay Off for Graduates
Graduates of Florida colleges, including Miami Dade College's degree and certificate programs, earn higher salaries than graduates from the State University System (SUS) and Florida independent (private) colleges and universities (ICUF), according to data provided by Florida Employment Training Placement Information Program (FETPIP). The study shows that 2008-2009 graduates with two-year Associate in Science degrees from Miami Dade College and the Florida College System (FCS) earned $10,357 more, and graduates of four-year bachelor's degree programs earned $6,758 more, on average, than baccalaureate graduates of the State University System.
In addition, MDC and FCS baccalaureate and A.S. graduates earned about $1,000 to $4,600 more than baccalaureate graduates of the private colleges and universities. With average costs for MDC programs less than half of the cost for comparable programs in the State University System and about a tenth of the cost of the private colleges, MDC and FCS students get more for a much smaller investment in their education.
These data attest to the value of these programs in preparing students for high-demand, high-paying careers in a wide variety of industries. A few of these many fields and jobs include:
Business – accounting technology and business administration
Creative – computer design technology and radio and television broadcasting
Education – Exceptional Student Education, secondary math and science and early childhood education
Health care – nursing, physician assistants and specialized medical technicians
High-tech – networking service technician, Microsoft database administration and computer-aided drafting and design
Public safety – corrections, fire-fighting and emergency medical services
"These earnings data provide strong evidence that MDC's high-quality educational programs are meeting students' and employers' high standards and expectations," said Dr. Joanne Bashford, MDC's associate provost for Institutional Effectiveness.
More Features Articles