---
Cultural Spotlight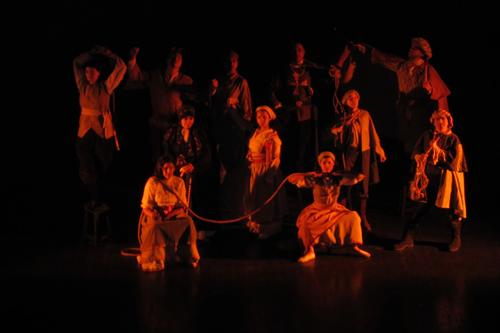 Prometeo Takes Center Stage Abroad
MDC's Prometeo Theatre group closed out another outstanding season with a bang, thanks to the huge success of their performance at the Fifth Annual International Conference of Theatre Schools and Educators in Quito, Ecuador.
The University of Quito's 270-seat theater had to make room for the nearly 400 audience members who attended Prometeo's revival of the Lope de Vega Golden Age classic, Fuenteovejuna, directed by Prometeo instructor Lilliam Vega.
Outshining the Rest
"MDC glowed like a supernova," said Prometeo Artistic Director Joann María Yarrow, who traveled along with the program's professional actor troupe. "People actually laughed and cried, which may sound like a cliché, but in this case, it is actually fittingly true."
Presented alongside 12 other international institutions and theater companies who shared the main stage during the week-long conference, Prometeo's offering was deemed by many "the highlight of the festival."
Teaching Others
The prestigious Spanish theater program at Miami Dade College was also invited to participate in several workshops taught by master teachers, among which figured prominently the program's director herself.
"At Prometeo Theatre, we represent all the countries of Latin America while forming the new face of American theater," Yarrow said. "When we travel, we not only learn and network with other great artists but we can also be very proud of our own training and accomplishments on the world stage."
— HP
More Cultural Spotlight Articles