---
Cultural Spotlight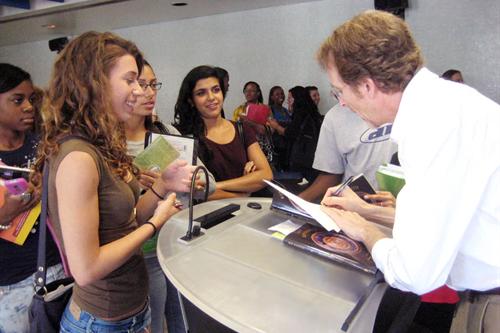 Long Live Poetry!
Poems Enhance Beauty of Spring at MDC and Beyond
A month-long celebration of poetry powered by the Florida Center for the Literary Arts (FCLA) at Miami Dade College brought poems to all of South Florida in April with daily email offerings, a visit from a poet and a citywide campaign to encourage everyone to read more poetry. Then in May, the Center partnered with Miami-Dade County Public Schools to lead creative writing workshops.
"We want to highlight the importance of poetry by creating a real buzz in our community during National Poetry Month, then keeping it going all year," said Alina Interián, FCLA's executive director. "Last year we sent a poem a day to our national email list, and it was so well-received, we created more poetry initiatives."
The Daily Poetry Blast, which emailed a poem each day in April, began with "Today," by former U.S. Poet Laureate Billy Collins. Other poems included, "Moon Festival," by Bei Dao; "Freeway 280," by Lorna Dee Cervantes; and "Ode to Chicken," by Kevin Young.
"Poetry is perfectly suited for today's we-read-everything-on-our-phones culture," said Lissette Méndez, program coordinator at the Center. "While some poems are 600 lines long, most are short and still offer a complete story in limited space."
Also launched this year was One Poem Miami, a campaign designed to get as many people as possible to read one poem, talk about it and develop an interest in reading more poems. The Center printed 40,000 cards and distributed them all over the city featuring a poem given to the Center and its partner, O, Miami poetry festival, by current U.S. Poet Laureate W.S. Merwin. "On the Old Way," also printed in Spanish, reminds readers to stop and consider the beauty of their surroundings along with their place in their city and their world.
"Our goal is to encourage everyone to engage with literature and be transported by what they read," Interián added.
MDC students did just that on April 11, when poet Dennis Hinrichsen read his poems at the North Campus and the Center provided students free copies of his award-winning book of poems, Rip-Tooth.
In addition, students in selected Miami-Dade County Public Schools had the opportunity to both read and write poetry when FCLA's workshops brought local poets into the classroom in May. Their works were then published on the Center's website at www.flcenterlitarts.com.
"We hope to build this program in the future," Méndez said. "The skills students learn when writing poetry are incredibly useful for all types of writing, from college essays to business letters."
On the Old Way
After twelve years and a death
returning in August to see the end of summer
French skies and stacked roofs the same grays
silent train sliding south through the veiled morning
once more the stuccoed walls sore
pavilions of the suburbs glimpses
of rivers known from other summers leaves
still green with chestnuts forming for their
only fall out of old dark branches and again
the nude hills come back and the sleepless
night travels along through the day as it
once did over and over for this was the way
almost home almost certain that it was
there almost believing that it could be
everything in spite of everything
– W.S. Merwin
— Staff Report
More Cultural Spotlight Articles