---
Features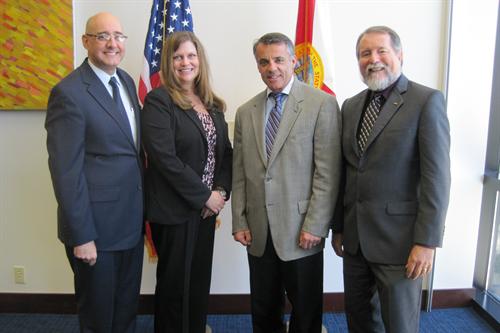 UM, MDC to Develop Biosciences Hub
In an effort to build up and give back to the community surrounding its new Life Science & Technology Park in Overtown, the University of Miami will soon unveil a career-training partnership that it is developing with Miami Dade College.
UM's ambitious bioscience center, which is in close proximity to six hospitals, 178 research institutions and 199 testing laboratories, has the potential to turn Miami into a vital bioscience hub. The partnership also has the potential to feed the thousands of new jobs projected to be created by the park, while transforming lives in one of the city's poorest neighborhoods.
"We are excited about this," said MDC Provost Dr. Rolando Montoya. "We've worked with UM on many projects, and it is an excellent partner."
Building Career Pathways
UM and MDC will create a career pathway center to identify adults and high school students from Overtown and surrounding areas who might be interested in pursuing careers in health care or biosciences. The center will facilitate awareness and access to existing programs and offer academic and career advising, as well as workforce development training.
The career pathway will allow for students to have multiple entry and exit points that prepare them for employment in such jobs as pharmacy and laboratory technicians. Students will also be able to map out academic pathways to pursue associate degrees in fields ranging from health science to biotechnology that lead into baccalaureate degrees such as MDC's new proposed bachelor's degree with a major in biological sciences, which is in the final stages of approval.
Numerous Auxiliary Jobs
This new Life Science & Technology Park along with the growing partnership between UM and MDC will also create numerous auxiliary job opportunities in other areas such as hospitality management, business administration and information technology – all fields in which Miami Dade College has outstanding and well-developed educational programs.
The collaboration between MDC and UM is a hallmark of the great work that both institutions do to provide education and training programs that prepare the workforce in our community.
— PUR
More Features Articles