---
Features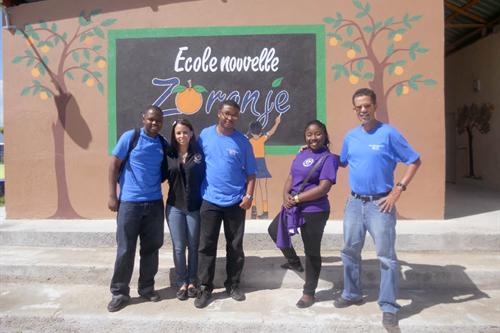 Learning While Serving in Haiti
Lending a hand to those in need is part of MDC's teaching philosophy and a basic component of the College's 10 Learning Outcomes. So when Professor Bernard Mathon, who teaches mathematics at MDC's Wolfson Campus, decided to help Haiti after the devastating earthquake that hit his native land on Jan. 12, 2010, he found a way to assist not only the children in Haiti but also his own students. He recently took four students from The Honors College at MDC to Port-au-Prince as part of a new service-learning project.
"Since the earthquake, many volunteers have contributed to the reconstruction effort. I saw that Miami Dade College could play a vital role in the educational field," Mathon said.
When he learned about Ecole Nouvelle Zoranje, Mathon knew he had found the perfect project for The Honors College students.
Dedicated Students
"It's a school run by ProDev, a Haitian nongovernmental organization whose goal is to build exemplary communities," he said. "In February, I visited the school and was impressed by the teachers, the staff and the students' high level of engagement in the learning process."
Creating an "Alternative Break" program between MDC's spring and summer semesters that was designed as much to serve others as to learn and have fun, Mathon took Honors College students Estanley Baptiste, Kenny Pierre, Ashley Villard and Joschel Piquion to Ecole Nouvelle.
"Our students worked directly with the children, teaching them about bacterial growth, the properties of water, solar energy, recycling paper and using wind power," Mathon said.
Building Future Leaders
The Honors College students also left having learned valuable lessons.
"The children were hungry for knowledge," said Baptiste. "The experience has been rewarding, showing me how I can help more in the near future."
Villard added, "This project opened doors for these Haitian children, showing them a world full of opportunities that lie ahead for them. They, like we, are the next generation of leaders who will shape our world."
Noting how his students had profited from the Alternative Break, Mathon said, "Through their interactions with the kids, our students further developed their leadership skills. And the intellectual abilities and confidence levels of our successful college students will motivate these children to value education in general, and science and mathematics in particular."
— WV
More Features Articles