---
Features
Green Fairs Spring Up at MDC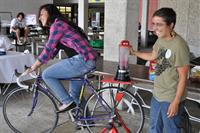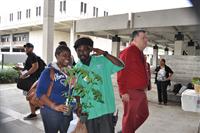 Hundreds of people attended MDC's Green Fairs this year. A favorite attraction was a bicycle retrofitted with an electric generator hooked to a blender that churned out fruit smoothies, top. Students who received green passports and had them stamped at fair stations then got a free organic plant, below.
With gas prices hovering around $4 a gallon, temperatures rising and South Florida feeling the heat, Miami Dade College's Earth Ethics Institute and campus teams are expanding sustainability efforts and spreading awareness about important environmental issues that will continue to impact South Florida. Beyond the classroom, a series of free Campus Green Fairs has sprung up at MDC. This spring, two campuses, IAC and Kendall, held fairs that highlighted these key issues. North and Wolfson campuses held fairs in the fall.
A Hit With Students
"The Green Fairs had great attendance, with 500 to 600 students attending the larger events, and that doesn't even include faculty," said Colleen Ahern-Hettich, director of the Earth Ethics Institute at MDC. The fairs featured exhibits and product giveaways from major players dealing with environmental issues. Participants included the Animal Rights Foundation of Florida, the Department of Environmental Resources Management, Miami-Dade County Parks and the Sierra Club. According to Ahern-Hettich, one of the most popular exhibits was a bicycle that was retrofitted with an electric generator hooked up to a blender, which churned out fruit smoothies when ridden by fair attendees.
Passport to Greener World
According to Anouchka Rachelson, chair of the Kendall Campus Green team and a council member of the Earth Ethics Institute, students were encouraged to participate in all facets of the fair. "Students got a green passport that they had stamped at each station, and they got a free organic plant."
Ahern-Hettich said the county also swapped efficient showerheads and light bulbs for students' less-green items.
The fairs go hand in hand with a green lecture series focusing on topics including climate change and how the environment impacts health.
"The lectures get people psyched about the fair," Ahern-Hettich said. "Next year we hope to have a more extensive series."
— JD
More Features Articles