---
Features
MDC's Success Makes Perfect SENSE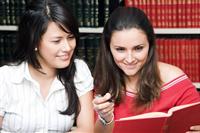 A recent national survey finds that students are pleased with their early experiences at MDC.
Miami Dade College's exceptional support for student success is evident in the most recent Survey of Entering Student Engagement (SENSE), a national survey that measures students' early experiences and opinions about their colleges. The survey, which was conducted in the fall, sampled students taking their first college-level courses in English and math. SENSE measures benchmarks that provide information in six key areas, including engaged learning and academic support networks.
Now is the perfect time for MDC to celebrate its success and focus on meeting new challenges, according to Billy Jones, chair of College Prep at Kendall Campus. He recently attended a conference held by the Entering Students Success Institute to learn ways of incorporating findings from the SENSE study into MDC's
programs.
New Learning Style
"The data showed ways we can enhance early contact with students at MDC," Jones said. "The needs of 21st century students are different, even from just a few years ago. For example, more students now have to balance their academic studies with their work demands."
The results were compared to 172 SENSE cohort colleges and 16 colleges classified as extra-large. MDC outperformed the SENSE cohort and extra-large colleges on three key benchmarks: High Expectations and Aspirations, Engaged Learning, and Academic and Social Support Network. In addition, MDC performed very well on the other three.
Light-Years Ahead
"The data confirms that MDC is on the vanguard," Jones said. Survey results also showed specific ways in which the College can keep getting better.
On a 0-60 scale, MDC scored best in engaged learning with a score of 55.8, which indicates that students at MDC are actively connected to course material and their own learning experience.
— JD
More Features Articles