---
Features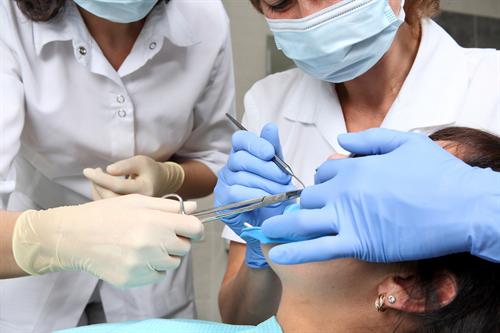 Hundreds of Smiles Turn Brighter
Dozens of uninsured and underserved community members have received comprehensive dental care thanks to Miami Dade College's collaborative agreement with Nova Southeastern University's School of Dental Medicine this year.
It started when administrators for MDC's Dental Hygiene Program saw a higher need among the patients who visit their dental hygiene clinic for routine preventive services, such as cleanings, sealants and X-rays.
Creating an Option
"Our patients simply didn't have any place to go for good dental care at a reduced cost," said Dr. Susan Kass, MDC's dental hygiene program coordinator. "We wanted to find a way to provide that for them."
MDC reached out to NSU's School of Dental Medicine and formed the Community Collaborative Partnership, providing upper-level dental students from NSU to directly treat patients at MDC's Dental Hygiene Clinic one day a week during the fall, spring and summer semesters.
Since September, dental students from NSU have performed restorative care procedures such as fillings and simple tooth extractions, among other dental services, making the clinic a more full-service therapeutic and preventive
care facility.
Students, Community Benefit
"It has been a complete win-win situation," Kass said. "Not only do the dental students benefit from the experience, but so do the patients." Approximately 15 patients a week have received care since the partnership began.
"We have been surprised by the response because we weren't sure how receptive our patients would be," said Kass, noting that while these services are significantly lower than at private practices, many of the clinic patients initially were not used to the costs. "Their overall impression of the clinic has been overwhelmingly positive. We actually have a waiting list."
— PUR
More Features Articles