---
Making Their Mark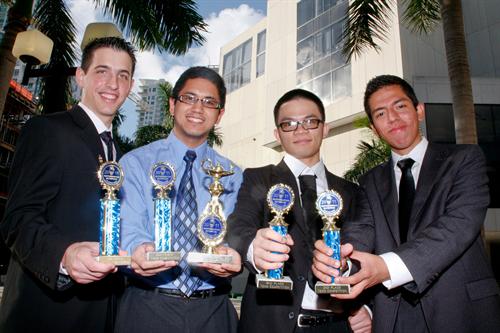 A Winning Combination
MDC Broadening Understanding of Holocaust, Genocide
For the second year in a row, an MDC Wolfson Campus student has won first place in the statewide Math Olympics.
Luis Larco, a sophomore in MDC's Honors College, took first place in the 2011 competition, held at the University of North Florida in Jacksonville. José Rodríguez won the 2010 competition.
Larco, who is from Lima, Peru, beat out 119 students to earn a trophy and scholarship money. He graduated from MDC in May with a double major in computer and electrical engineering and has applied to 27 universities, including Harvard, Yale, Cornell and MIT.
Outstanding Teamwork
The Math Olympics consisted of 30 math teams. Larco joined with Ernesto Mogena, Samy Wu and Erico Oyarzun to take second place in the team competition.
"I'm very proud of these four students," MDC professor and Math Club coach Alvio Domínguez said. "They showed that hard work pays off. They trained for a year, meeting every Friday."
The team competition consisted of 10 questions, with 10 minutes given to answer each one. The individual test consisted of two parts: 40 questions in 90 minutes, with no calculators or formulas allowed; and 45 minutes given to solve 10 real-life-application exercises, with calculators permitted.
Beating the Odds
"The questions were exceptionally difficult, and there were no partial credits," Domínguez said. "What they accomplished is almost impossible and unbelievable. They worked so hard."
Hard work and a team spirit are what always pays off. And MDC knows just how to build those traits in its students.
More Making Their Mark Articles