---
Making Their Mark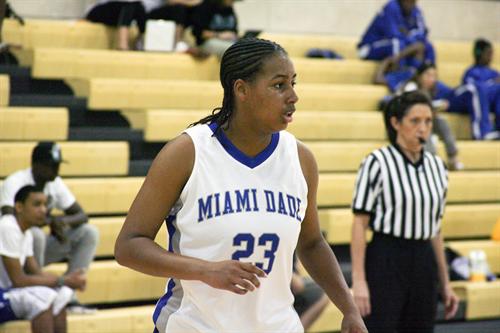 Star MDC Athlete Ready to Help Kids
MDC's Ashley Wilkes, recently named the Southern Conference Women's Basketball Player of the Year, has been awarded a scholarship to play at Canisius College in the fall.
As excited as Wilkes is to head to Buffalo, N.Y., she said she'll miss MDC.
"It's bittersweet knowing that my chapter here is closing," Wilkes said. "But I'm excited about the next step."
The first in her family to go to college, she graduated in April with an associate's in psychology.
"We are very proud of her success as a student and as an athlete," MDC Coach Susan Summons said of Wilkes, who had a 3.0 GPA.
Wilkes has come a long way since her early days in Windsor, Ontario. For three years, she was deemed not good enough to make her grade-school team. Not giving up, she practiced daily with the team, just as if she had made it. Years later, when she had no scholarship offers out of high school, she stayed in Canada an extra year until her coach, Paul Lebat, helped her connect with Summons.
"Coach Summons liked what she saw when she watched me play," said Wilkes, a 6-foot forward.
Summons' instincts proved correct. Wilkes turned out to be a hit and now is on her way to furthering her career.
Wilkes would love to play pro ball someday, but her ultimate goal is to earn a bachelor's in child psychology, work at a school helping children and also possibly coach on the side.
"I want to serve others and share my passion for basketball," she said.
— WV
More Making Their Mark Articles