---
Alumni News
Giving Back In Myriad Ways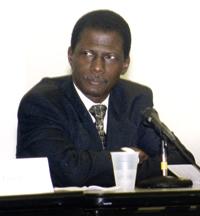 Gerardo M. Simms
MDC alumnus Gerardo M. Simms has a strong history of giving back to the community. Busy with his work as Assistant U.S. Attorney in the Southern District of Florida, he also serves as a board member for Redlands Christian Migrant Association, the Hispanic Heritage Council and Operation Pedro Pan Group.
Born in Havana, Simms has an educational background as rich and varied as his community service. After earning an associate degree at MDC's Kendall Campus, he got a bachelor's degree in psychology at the University of Miami and then graduated from the University of Miami's law school.
 "My professors at Miami Dade were enthusiastic," said Simms. "The curriculum offered the opportunity to look into a wide range
of careers."
For Simms, that career path has included serving as Assistant State Attorney in the Eleventh Judicial Circuit before his current post.
With all his accomplishments and the causes he supports, Simms is content with where life has taken him since his days at MDC.
"I couldn't think of any work I would rather do other than be an Assistant U.S. Attorney," he said.
— WV
More Alumni News Articles