---
Alumni News
Alumna's Historic Promotion Ensures Region's Security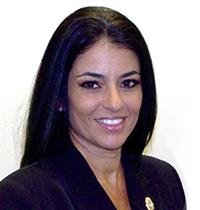 Addy Villanueva
Miami Dade College alumna Addy Villanueva has had an impressive career in law enforcement, and she credits MDC's School of Justice with setting her on the path to success.
Villanueva recently became the first Hispanic woman to be named Special Agent in Charge of South Florida's Department of Law Enforcement, which fights the war on illegal drugs while also ensuring domestic security.
"It's an amazing honor," said Villanueva, who supervises 100 employees, including 70 agents. "It's something I've worked for my entire career."
Born in San Francisco, Villanueva and her Cuban parents moved to Miami when she was 2. When she decided to study law enforcement, her mother cried for three days, worried for her daughter's safety.
But later, when Villanueva struggled with firearm accuracy at the police academy due to her inexperience handling a gun, her mother spurred her onward.
"She told me to finish what I started," said Villanueva.
And she has done just that, building a brilliant, 22-year career. Married to a Miami-Dade police lieutenant, Villanueva and her husband have three children. Their oldest in high school is considering a career in law enforcement.
Much like her mother, Villanueva would prefer that her daughter not go into the family business. But there is one thing she is sure about – Miami Dade College.
"I've encouraged my daughter to study at MDC," Villanueva said. "I had a great experience at my alma mater."
— WV
More Alumni News Articles