---
Alumni News
MDC Mentors Transformed Her World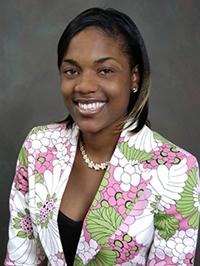 Nicole Golden
When Nicole Golden was in middle school, she could hardly wait until she finished the 12th grade so she could be done with books.
But her whole life changed her sophomore year at Miami's Turner Tech High when she took part in a dual enrollment program at Miami Dade College's Wolfson and North campuses.
In no time at all, she was earning college credit while in high school.
"And I was getting A's," said Golden, the fourth of five children and the first in her family to go to college. "That was a shocker to me."
That was also the turning point in what has become a life of learning for Golden, who earned a full scholarship to study at The Honors College at Miami Dade College.
Powerful Network
 "I would not be where I am now without the network of people I met at The Honors College," she said.
Once fearful of flying, Golden credits MDC mentors, such as The Honors College Dean Dr. Alexandria Holloway and Director Virginia Fuillerat, with pushing her to discover the world outside of Miami.
After MDC, Golden ventured to Washington, D.C., where she earned scholarships to and degrees from Howard University (bachelor's) and George Washington University (master's).
Now 26, Golden teaches at Barnard Elementary School in Washington, D.C. She is aiming to earn a Ph.D., and later teach education at the university level. She also plans to someday return to Miami, which would be fitting since she is effusive in her praise for Miami Dade College.
Door Always Open
"The preparation MDC gave me was top of the line," Golden said. "I received so much one-on-one mentoring. You would think the dean of The Honors College would be too busy to talk to you, but Dr. Holloway's door was always open. She saw the potential in me."
Golden would like to one day inspire the younger generation. She already tutors children in the D.C. area.
"I want to reach the ones who fall through the cracks like I almost did," Golden said. "In middle school, I didn't know I could be an 'A' student. There are a lot of kids like me who don't know their capabilities."
— WV
More Alumni News Articles