---
Making Their Mark
Business Students Shine at National Competition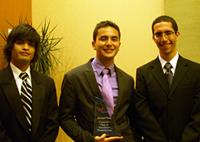 MDC's computer simulation and gaming team members Alex Windelburg, Jorge Páez and Gregory Vila won second place at Phi Beta Lambda's national competition.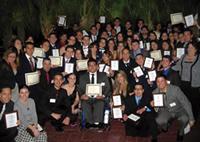 MDC's award-winning students won numerous honors at the national competition.
More than two dozen MDC students captured 14 awards at Phi Beta Lambda's 2011 National Competition and Leadership Conference in Orlando by showing their exceptional talents in diverse aspects of business success ranging from fund-raising to project management.
Representing the Wolfson, Kendall, InterAmerican and North campuses, the 28 students from Miami Dade College outranked their strong competitors from other top colleges around the country.
The highlight for MDC was its first-place showing in the Small Business Management category, led by Kendall Campus students Carlos Argüello, Giovanny Alfonso and Jesús Martínez. This was the fourth consecutive year in which Kendall Campus won first place in this category.
Kendall Campus' Computer Game Team of Jorge Páez, Gregory Vila and Alex Windelburg earned a second place, beating major engineering schools.
María Mari, an MDC business professor and Phi Beta Lambda faculty advisor, is amazed at the talents of MDC students. "To see them compete against major universities and win is proof of the quality of the education at MDC and the depth of talent of our students."
— WV
More Making Their Mark Articles