---
Making Their Mark
True Tales of Adventure Inspire Students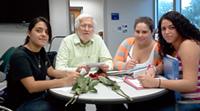 MDC professor John Todd is an inspiration to his students.
Students who take a course with MDC speech professor John Todd learn lessons that extend far beyond the classroom.
That's because Todd, 74, has lived an exotic life that includes being named chief of two African tribes, managing to avoid being bitten by the numerous snakes he has encountered in the jungle and becoming vice president of Elliare International College in Tokyo.
He also helped set up educational programs in Costa Rica, Honduras, Guatemala, Belize, Malaysia and China. 
Daring to Make a Difference
"I believe education opens doors," Todd said. "If you dare to be a little adventurous, you can go far."
Todd, who is also the debate director at MDC's Kendall Campus, was born and raised in Ohio. Four years after graduating from Southwestern College in Winfield, Kan., he decided to join the Peace Corps and was sent to Sierra Leone. Through intensive study, he mastered the West African nation's language, Mende. He also helped open a hospital in the country and was soon named a tribal chief. A similar thing happened with the Anang tribe in Nigeria. 
Setting a Noble Example
The stories of Todd's nomadic life never cease to amaze his students.
"He defines humanitarianism," Rachel Rosenburg said. "He gives of himself and forgets what he needs."
Todd said he hasn't yet finished accomplishing his many goals. The hospital he helped establish years ago in Sierra Leone has since been nearly destroyed by the country's civil war.
"I'm going back to Sierra Leone this Christmas," said Todd, a former Marine who has not been to the country since the late 1970s. "My dream is to help rehabilitate that hospital or to get a new one built."
— WV
More Making Their Mark Articles