---
Making Their Mark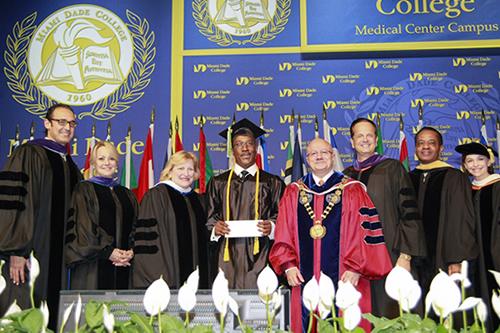 From Helping Students to Healing Patients
After spending years making a difference in students' lives in his hometown of Port-au-Prince, Haiti, Jean Bertrand Merozier decided at age 37 that it was time to help another group of those in need.
Leaving behind his career as a high school science teacher, he came to Miami to study nursing. Now 42, he has excelled in a new country, learned a new language and embarked on a new profession.
First Merozier earned an associate degree in education in 2008 at MDC's North Campus. Then he completed an associate degree in nursing at MDC's
Medical Center Campus this
spring. And he accomplished all this while maintaining a 3.8 GPA, graduating with highest
honors, and earning MDC's distinguished District Board of Trustees Scholarship, which will enable him to now pursue a bachelor's degree.
Leaping Linguistic Hurdles
"Not knowing English when I first got here made it very difficult," said Merozier, whose first language is Creole. "But education is very important to me. It gives me the opportunity to improve my life and the lives of others."
Merozier plans to complete a doctorate in nursing after earning a bachelor's. While he enjoyed teaching, he looks forward to following in the footsteps of his mother, who worked in health care.
Nurturing Others
"My mother was a midwife in Haiti, so I have always been drawn to the profession," he said. "I like to care for people."
Merozier, who is a member of the Haitian American Nursing Association, said he is grateful for the education he has received at MDC.
"In terms of a quality education, Miami Dade College is a great institution," he said. "My professors are incredibly knowledgeable and knew exactly what to teach me to enable me to succeed. I have been very fortunate to have
studied here."
— WV
More Making Their Mark Articles