---
Making Their Mark
Silver Scholar's MDC Studies Turn Golden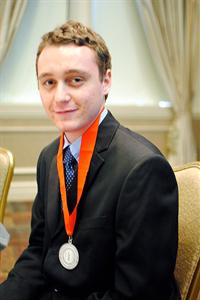 MDC Honors College graduate Diego Soto is now studying at Georgetown University.
When he applied to MDC, Diego Soto knew studying at The Honors College would give him a competitive advantage. What he didn't know was how quickly that great education would earn him national recognition.
With his name appearing recently in USA Today, Soto was named a 2011 Coca-Cola Community College Academic Team Silver Scholar.
"I was pleasantly surprised because I knew I was up against many talented people," said Soto, 20. "But I also had confidence knowing I was coming from MDC, which has given me such a firm foundation."
Stiff Competition
Community college presidents across the country submitted two nominations per campus. Judges reviewed 1,600 applications for academic achievement, awards, leadership skills and community service.
Soto, a Miami native, recently graduated from MDC with a 4.0 GPA in political science. His community service included participation in fundraisers generating nearly $50,000 to help feed the needy in Haiti.
Study Abroad
Now at Georgetown University and aiming for law school, Soto says MDC gave him "amazing opportunities," including traveling to Austria for The Honors College's Salzburg Global Seminar and Washington, D.C., for a seminar on politics.
Soto wants to become a constitutional lawyer, then later a judge.
 "I appreciate all the support I received from my professors," he said. "It was a very enriching experience to study at MDC."
— WV
More Making Their Mark Articles