---
Making Their Mark
Ready to Lead in Dynamic Field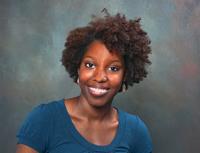 Britnie Allen
Lauded for her innovative approach to technology, MDC student Britnie Allen recently received the Greater Miami Chamber of Commerce's Technology Student of the Year award presented by Compuquip Technologies.
Allen, who was nominated by ITWomen, is a majoring in computer information systems at Wolfson Campus. She balances demanding coursework with service-learning activities at the College's Earth Ethics Institute, Student Government Association and fundraisers benefitting Haiti.
Aspiring to one day lead a major information and technology (IT) corporation, Allen graduated valedictorian from Miami Central High School, where she was a member of the IT magnet program, which in turn inspired her to become involved with the ITWomen organization and led to her being named president of the IT Girls Club.
Well along the path to success in high school, she is now continuing to excel in her studies and endeavors at MDC.
IT leaders, take note!
— WV
More Making Their Mark Articles