---
Making Their Mark
MDC Student Earns Prestigious National Scholarship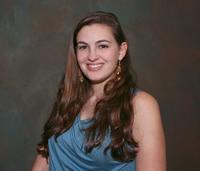 Laura Loret de Mola
InterAmerican Campus student Laura Loret de Mola was recently selected to join the prestigious All-USA Community College Academic Team by USA Today, the American Association of Community Colleges and the Phi Theta Kappa Honor Society. The national collegiate competition recognizes outstanding two-year college students for their leadership and academic accomplishments.
This year, more than 1,600 students applied. Judges chose 20 students based on how well they were able to extend their intellectual talents beyond the classroom. Loret received a $2,500 scholarship and a special medallion, presented to her at the American Association of Community Colleges Convention in New Orleans.
"It was a big deal for me, knowing that this was based on merit and community service," Loret said. While studying at MDC, Loret volunteered as a mentor for middle school children through the I Have a Dream Foundation. She worked with students at Nautilus Middle School in North Miami Beach to help them plant a garden in their community.
"From this garden, the kids and their parents could work together to get fresh food," Loret said. "Having a green space is uplifting for the kids and the community in general."
Loret is applying the scholarship towards her studies at New York University this fall, where she is studying media culture and communications.
The competition, sponsored by Follet Higher Education Group, also presents $15,000 in textbook scholarships to the colleges of the student winners.
— NM
More Making Their Mark Articles