---
Academics
Students Ace Boards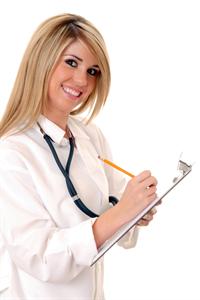 MDC's physician assistant students get top – even perfect – scores on the national board exam.
MDC's most recent physician assistant class has achieved a significant milestone: All passed the national board exam, including one who had a perfect score.
Dr. Pete Gutiérrez, dean of MDC's School of Allied Health Sciences, attributes this outstanding achievement to MDC's strong faculty, their devotion to their students, the support of the College and the students themselves.
The national average of people passing the first time is 89 to 91 percent, said Gutiérrez, making MDC's 100 percent passing rate even more significant. As for the perfect score, "this is the first one I've ever heard of," he said.
Being the best is nothing new for MDC's physician assistant students. They have won four consecutive Brain Bowls held by the Florida Academy of Physician Assistants.
Exceptional Job Prospects
MDC physician assistant graduates have great job prospects. Employment of physician assistants is expected to grow by 39 percent from 2008 to 2018 – much higher than the 10 percent increase projected for all employment, according to the U.S. Bureau of Labor Statistics' most recent Occupational Outlook Handbook.
— Staff Report
More Academics Articles