---
Academics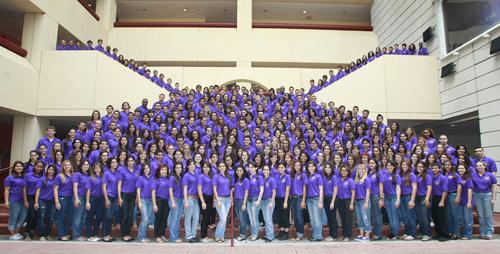 Poised to Excel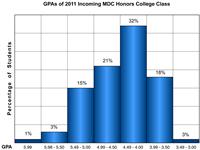 Honors College students come in with high GPAs.
Miami Dade College's 2011 incoming Honors College class boasts an outstanding 293 students of high academic achievement. Nearly 75 percent have high school GPAs of 4.0 or higher.
"We are thrilled to welcome another talented class to The Honors College community," said Honors College Dean Dr. Pascale Charlot. "They bring impressive academic credentials, demonstrated leadership abilities and a real commitment to social engagement. We know the Miami Dade College experience will be enhanced as a result of their participation in our outstanding academic community."
The well-rounded and extremely diverse class can claim 14 different languages spoken. Countries of birth range from China and Chile to Mexico and Myanmar, and everywhere in between.
Entering Honors College students are spread among four campuses, with 83 at North Campus, 79 at Kendall, 78 at Wolfson and 53 at InterAmerican.
Expectations are high for students who enter The Honors College at Miami Dade College. To be considered for admission to this special academic division of MDC, students must have earned a 3.7 high school GPA and a minimum score of 1300 on the SAT or 26 on the ACT.
— AMS
More Academics Articles