---
Academics
Medical Programs Lead to Hot Jobs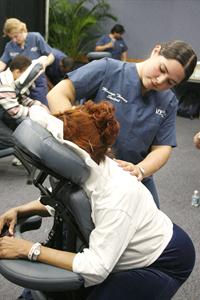 Miami Dade College is offering a fast-track certificate program in massage therapy.
Miami Dade College has created a fast track to some of the hottest jobs in health care with five highly affordable certificate programs that can be completed in just one year.
At MDC's Medical Campus, high school graduates can pursue low-cost certificates in medical assisting, phlebotomy, massage therapy, medical coder billing and to work as a pharmacy technician – all specialties that are in high demand in these tough economic times.
Tuition is well below that of other schools – in several cases, costing thousands less – reinforcing MDC's commitment to making high-quality education accessible to all. The affordability and short length of the programs are a double-win for students, preparing them to become highly employable for steady, well-paying jobs in a short amount of time.
The benefits of MDC's programs extend beyond the students, meeting workforce needs of the medical community as well as the people of South Florida at a time when they need it most.
— MR
More Academics Articles