---
Academics
MDC's Virtual College is a Role Model for Others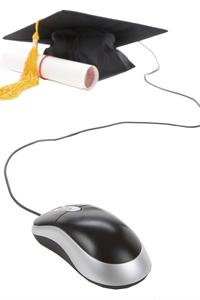 This fall, 9,000 students are taking online courses at MDC.
Always seeking innovative ways to help students excel at MDC's Virtual College, Ruth Ann Balla has enabled enrollment to more than double under her tenure as the school's executive director. This fall, 9,000 students are taking online courses at MDC.
Now Balla can add one more item to her list of accomplishments: first elected chair of the Florida Distance Learning Consortium (FDLC). The new appointment gives Balla even more academic challenges.
Increasing Awareness
"The biggest thing is to make prospective students more aware that they could complete programs online through Florida colleges and universities," she said. "Students don't realize we have entire online programs available."
Miami Dade College's Virtual College has been successful in broadcasting the message that courses are available online, as the increased enrollment numbers show. Now Balla will help the College and consortium achieve similar results for online programs.
The consortium's primary function is as an advisor to the State Board of Education and the Board of Governors on topics ranging from strategies for distance learning to developing streamlined online registration for undergraduate students who are interested in taking courses listed in the Florida Higher Education Distance Learning Catalog.
A Veteran Educator
Balla brings a wealth of experience to MDC's Virtual College and her new post as chair. She joined MDC in 2006 after holding both faculty and administrative positions at various institutions. Balla also worked as a chief information officer and regional manager for Collegis and then SunGard, providing IT support to higher education institutions.
— Staff Report
More Academics Articles