---
Alumni News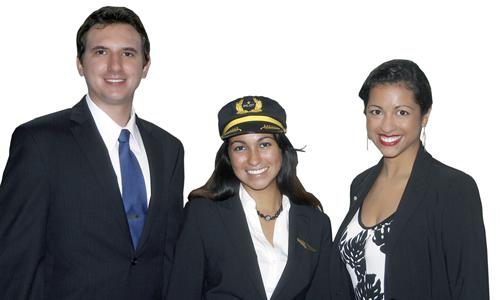 Aviation Students Win Scholarships
Moments before Ian M. Pico embarked on his first solo flight, his instructor asked him if he felt ready for the task. Flying was his dream since age 4; now, thanks to the instruction he had received at Miami Dade College's Eig-Watson School of Aviation, he knew he was ready.
"I will never forget when I started taxiing down the runway, I looked to my right and there was an empty seat," said Pico. "It was my lifelong dream come true."
It is a powerful feeling Pico will take with him to Embry-Riddle Aeronautical University, along with a $6,000 scholarship he and MDC students Kathleen Suárez and Sylvia Quinn received from the Greater Miami Aviation Association's (GMAA) Batchelor Aviation Scholarship Fund.
High-Quality Curriculum
"We are very pleased that our students received this wonderful recognition," said Diana D. Lewis, director of MDC's Eig-Watson School of Aviation. "I think it speaks very highly of the overall quality of all our aviation programs."
Like Pico, Suárez is also studying to become a pilot, while Quinn is preparing for a career in air traffic control, which she likens to 3-D chess. She said she was drawn to the challenge.
The 30-year-old wife and mother has been doubling up on classes to try to beat the age restriction imposed by the Federal Aviation Administration, which doesn't hire new controllers over the age of 30. This has meant taking as many as eight classes in one semester.
"I did what I had to do," she said. "I am very driven now that I have finally found something I know I want, and I am going after it."
Building a Solid Future
Quinn said her education from MDC will guarantee her a stable, rewarding job in the aviation field even if she misses the cut-off for air traffic controllers. Her instructors have pointed out that one in four jobs in Miami is directly related to the city's international airport.
"I feel confident that, no matter what, I will be set with a job in aviation," said Quinn. "That's one of the best things about going to MDC. It offers a well-rounded curriculum."
— PUR
More Alumni News Articles