---
Cultural Spotlight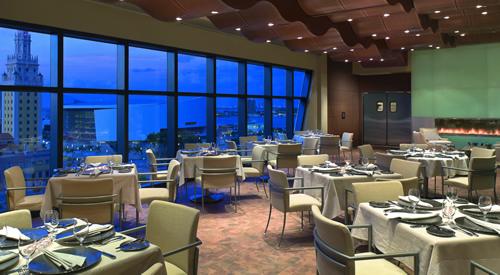 Tuyo is Feast for Senses
Nothing has caused more buzz in South Florida's culinary arena than the long-awaited opening of Tuyo, the crown-jewel restaurant gracing the top floor of the Miami Culinary Institute (MCI) at MDC.
Offering spectacular views of Downtown Miami and the bay in a luxurious setting, the gourmet restaurant utilizes environmentally sound practices, locally grown foods and selections from the Institute's organic garden to create a trailblazing New World fusion menu.
"As culinary professionals, we understand the role we play in elevating our community's expectations about the food they eat," MCI Director John Richards said. "At Tuyo, guests can expect a superb dining experience knowing that we are putting the conscience and culture back into the fabric of our nation's voracious food passion."
It's a New World
Under the direction of James Beard Foundation Award-winning Chef Norman Van Aken, known internationally as the founding father of New World Cuisine, Tuyo (meaning "yours" in Spanish) crystallizes the Institute's philosophy of food culture innovation into a delightful experience for all to savor.
The restaurant avidly embraces farm-to-table philosophies. Its ever-evolving menu celebrates Latin, Caribbean, Asian, African and American flavors with delectable dishes that showcase the finest local seafood, produce and ingredients in enticing combinations.
Tuyo also features an extensive wine list from around the world to complement the inspired cuisine, with superb varietals and labels available by the bottle or the glass.
Room With a View
Equally as impressive as the food is Tuyo's exquisite atmosphere. Panoramic vistas exalt the city skyline and Biscayne Bay, making sure diners are just as dazzled by their surroundings as they are by the culinary creations.
The spirit of sustainability is embedded in Tuyo's décor, putting MCI on track toward Gold LEED Certification. The restaurant boasts windows made from recycled glass, eco-friendly countertops and floors made of 19th and 20th century wood recovered from a Michigan lake.
Those dining at Tuyo also have the added benefit of knowing that a portion of the dollars they spend goes to supporting MCI's academic programming and scholarships.
— AMS
More Cultural Spotlight Articles