---
Features
Carnegie Corporation Lauds MDC President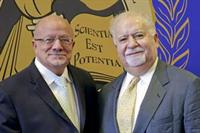 MDC President Dr. Eduardo J. Padrón, left, and Dr. Vartan Gregorian, president of the Carnegie Corporation.
The Board of Trustees of the prestigious Carnegie Corporation of New York has awarded Miami Dade College President Dr. Eduardo J. Padrón with the 2011 Carnegie Corporation Academic Leadership Award, which includes $500,000 in unrestricted funds for the MDC president to use for academic initiatives. 
Miami Dade College's exemplary record of student achievement has earned the College accolades in the past year by the nation's top granting and educational organizations, including the Bill & Melinda Gates Foundation, the Lumina Foundation and the Aspen Institute, along with many others.
More Features Articles