---
Features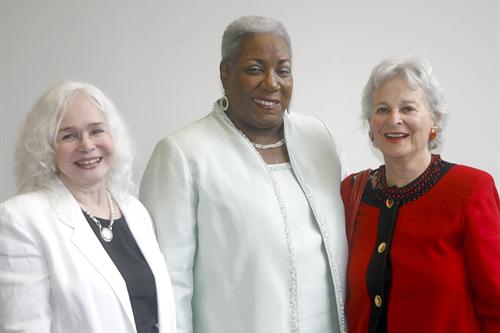 MDC Lauds Trio of Pioneers
Miami Dade College recently paid tribute to three extraordinary pioneers – Dr. Alexandria Holloway, Professor Teresa María Rojas and Dr. Ruth Greenfield – who made incredible contributions through their commitment, creativity and caring. Memorializing the legacy of the three, who are now retired, MDC has created permanent places of honor on the Wolfson Campus.
Honors College Trailblazer
MDC dedicated Honors College facilities housing the administrative offices and student meeting spaces to Dr. Holloway, who worked at MDC from 1976 to 2011, leading the trailblazing and nationally acclaimed program of The Honors College program since its founding. 
MDC President Dr. Eduardo J. Padrón praised Dr. Holloway for "her passion for education and leadership, and the positive influence she had on the lives of her students," who have succeeded at the nation's finest universities and in their careers.
Spanish Theater Founder
Prometeo Theatre, the nation's leading Spanish-language theater program, was dedicated to Rojas, its founder and director who worked at MDC from 1973 to 2006. Under her enthusiastic leadership, the theater became a cultural beacon in the community and launched the career of many renowned theater stars, including Pulitzer Prize-winning playwright Nilo Cruz and actress Hannia Guillén. 
Joann Yarrow, Prometeo's current director, praised Professor Rojas' ability to create and nourish bilingual theater. 
"For Rojas, Teatro Prometeo was a labor of love," Yarrow said. "That passion is evident in the success of Prometeo today."
Lively Arts Innovator
Miami Dade College dedicated the newly renovated Wolfson Auditorium to Dr. Greenfield, whose passion for the arts guided her work at MDC from 1964 to 1996. She served as chair of the Music Department and founded the College's Lively Arts Series. 
Dr. Michael Di Liddo, professor of Jazz Studies at Wolfson Campus, said Dr. Greenfield had a huge influence on the development of cultural offerings at the College and within the community in Downtown Miami. 
"Her vision of presenting noontime musical events that would be free and open to the public was the impetuous for the Jazz at Wolfson Presents Visiting Artist Series that I direct," he said.  
— Staff Report
More Features Articles