---
Features
MDC Shines in Attracting Students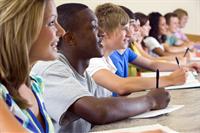 The College excels in attracting and retaining students.
Miami Dade College outperformed the Florida College System (FCS) in several of the Lower Division Accountability measures listed in the FCS' most recent report. 
Among the categories is the "Percentage of High School Graduates Enrolling in the FCS," which found that last year MDC enrolled 42.8 percent of recent graduates as opposed to the 34.6 percent average of the entire system.
Community Involvement
"Miami Dade College does a better job of attracting new high school graduates," said Dr. Joanne Bashford, associate provost for Institutional Effectiveness at MDC. "I think it has a lot to do with our working more closely with local high schools, or it could simply be MDC's great reputation." 
Miami Dade College has "consistently enrolled a higher percentage of high school students, had a higher Associate in Arts retention rate and had a higher success rate in both the Associate in Arts and Associate in Science programs for the past five years," said Dr. David M. Kaiser, director of Institutional Research at MDC.
Unique Environment
Bashford attributed MDC's ability to retain and help students succeed to the College's unique environment. 
"We are a very student-focused institution and place a premium on meeting students' needs for access to classes and academic support," Bashford said. "We also have a wide range of programs to keep students enrolled and progressing toward a degree."
— PUR
More Features Articles