---
Features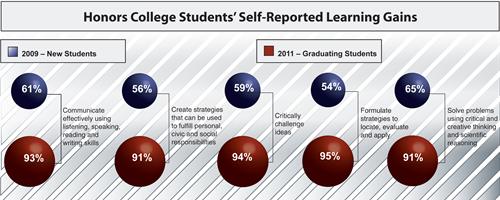 Great Honors College Students Grow Stronger
Students of The Honors College at MDC are outstanding from the get-go. Now a recent survey shows that in addition to starting off at the head of the class, these accomplished students make enormous personal and academic strides during their studies at The Honors College.
The survey, administered by MDC's Office of Institutional Effectiveness, gauges the perceptions of Honors College students of their own leadership skills, critical thinking abilities, understanding of diversity and other characteristics both at the beginning of their studies at MDC and then during their final semester before graduation.
Attaining Leadership Skills
The greatest gains were noted in two areas: addressing an audience (up 42 percentage points since enrollment) and formulating strategies to locate, evaluate and apply information (up 41 points).
Significant growth was perceived in a variety of other areas, too. More than 90 percent of graduating students felt confident in their abilities to solve problems using critical and creative thinking and scientific reasoning; to critically challenge ideas; to communicate effectively; and to create strategies for fulfilling personal, civic and social responsibilities.
Achieving Learning Outcomes
Other gains show that Honors College students acquire a greater appreciation for ethical thinking, aesthetics and creative activities, diverse cultures and global perspectives, and humans' impact on the environment – all learning outcomes that reflect how The Honors College is fulfilling Miami Dade College's mission of producing responsible global citizens and lifelong learners.
— MR
More Features Articles