---
Features
New Dean Focuses on Students' Success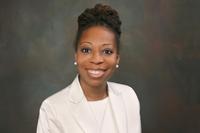 Dr. Pascale Charlot is the new director of The Honors College at MDC.
Dr. Pascale Charlot is now leading students to success as the new dean of The Honors College at Miami Dade College. Arriving from New York University's School of Law, where she was the dean of students, Charlot is taking the helm upon the retirement of founding dean Dr. Alexandria Holloway.
Charlot's strong legacy of working in the interest of others makes her an ideal leader for The Honors College, which is renowned for the supportive environment it gives its students. In her legal career, Charlot has worked in many facets of public interest law, including as a prosecutor for the State of New York. Her professional success and strong dedication to helping others reach their goals make her a valuable resource and role model for students.
"There is so much that works at The Honors College," said Charlot. "What I bring is a commitment to creating opportunities for students that will take them to great places while also helping  them develop their own unique personal voices."
— MR
More Features Articles