---
Features
MDC Volleyball Star is U.S. Hit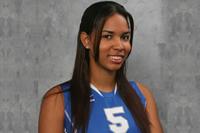 Marifranchi Rodríguez is the key player of MDC's women's volleyball team.
The MDC athletic program, which has produced numerous sports stars over the years, has another gem in Marifranchi Rodríguez, one of the nation's best women's volleyball prospects. 
Rodríguez, a towering, athletic 6-foot-3 middle blocker, has been offered scholarships at top universities. 
It will be up to Rodríguez to choose where she wants to continue her education – both on the court and in the classroom. 
"I would prefer to stay local," said Rodríguez, 20, a Dominican Republic native who has only been in the United States for one year. "But I am open to other opportunities." 
Rodríguez, who led the Sharks to a 35-2 record and a sixth-place finish at nationals last season, is one of the key players of MDC's 2011 team. The Sharks, currently ranked No. 2 in the nation, are also led by libero Yukie Futami and outside hitter Rosan Rivera. 
In addition, MDC Coach Kiko Benoit brought in top newcomers such as 6-foot-2 middle blocker Li Siyao from China, 5-foot-8 setter Marti Poole from Missouri, 5-foot-9 outside hitter Kayla Dowdell from Georgia, and 5-foot-9 outside hitter Latrice Johnson from Key Largo. 
"We've got a good group of kids," Benoit said. "But Marifranchi is the key. She's an all-around talent who can block, hit and pass. She has a bright future."
— WV
More Features Articles