---
Features
Dynamic Coach to Lead Men's Basketball Team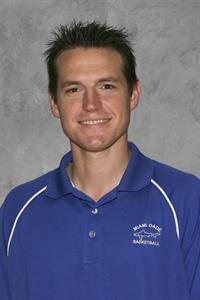 Stephen Cowherd is the new coach of MDC's men's basketball team.
If it looks like Miami Dade College's new men's basketball coach Stephen Cowherd can still play the game, it's because he can. 
At only 27, he has experience as a Division I point guard at Mississippi State University and the University of South Alabama. 
But Cowherd's playing days are over. He has a new mission now.
High Goals
"I want to turn MDC into a powerhouse nationally," Cowherd said. "I know that will take time, but I've got nothing but time." 
Cowherd, who was recently promoted from assistant to head coach, said his age is an advantage. 
"The players relate to me because it wasn't too long ago that I was in their shoes," Cowherd said. "They can look to me as an example of a guy who got where he wanted: Division I." 
Cowherd signed nine new recruits within three weeks of being promoted and he also has five walk-ons.
Exceptional Mentors
"I've been fortunate to be around coaches who have won a lot of games," Cowherd said. 
His first teacher was his father, the late Stan Cowherd, who won two state titles as a girls' basketball coach at J.P. Taravella High School in Broward County. 
Other mentors included John Pelphrey, who coached him at South Alabama; Mark Lieberman, now at the University of Louisville; and Tony Pujol, of the University of Alabama. 
Cowherd plans to recruit locally first, making it his goal to get South Florida's top players each year. 
"Being from South Florida, I know a lot of the high school coaches in the area," he said. "That's what makes this so great. This is home to me. 
"I can't picture anything better than being the head coach at Miami Dade College."
— WV
More Features Articles