---
Academics
Concrete Steps Toward Scholarships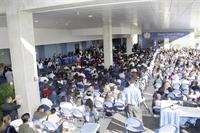 Thousands of South Florida students and parents attended the Hispanic Scholarship Fund event at MDC's North Campus.
Always responsive to the needs of South Florida's minority communities, Miami Dade College recently improved the odds of college attendance for Hispanic students during an event held in collaboration with the Hispanic Scholarship Fund (HSF), a national organization.
Nearly 2,000 secondary students and parents participated in North Campus' "College Is Possible" Town Hall and College Expo, where they learned about scholarships, college-admission requirements, financial aid opportunities and grants. In addition, students received help writing essays and compiling contact information for their HSF applications, with more than 300 students uploading applications on that same day to the HSF website from North Campus' computer courtyard. Many also applied for MDC's American Dream Scholarship.
"This was the first time the Hispanic Scholarship Fund has ever accepted applications at any single event in the nation," said North Campus President Dr. José Vicente, who serves on HSF's South Florida Advisory Board. "It was a great, concrete step toward bringing college within reach for those students."
— MR
More Academics Articles