---
Alumni News
NWSA Graduate Wins National Art Competition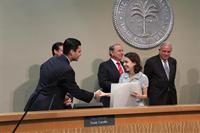 NWSA alumna Audrey Gair, center right, was honored by Miami officials, including Mayor Tomás Regalado, for winning the national 2011 Latino Art Beat competition. Below, Gair shows her winning painting, "Mi Cultura."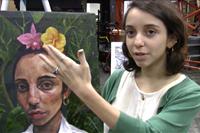 Since her freshman year at New World School of the Arts High School at MDC, Audrey Gair had heard advisors' ardent calls to apply to the Latino Art Beat Competition. Little did the young painter know that, in her senior year, she would become the winner of the prestigious national competition.
After winning first place at the regional level, she went on to the national competition and won the grand prize: a scholarship to the Maryland Institute College of Art (MICA) – her top choice. Gair's total scholarships are valued at an impressive $168,000.
Now studying at MICA among some of the most talented young artists in the country, Gair appreciates even more how well NWSA prepared her for art school.
"I feel like I was the luckiest person alive," said Gair. "Everything at NWSA was totally accessible. Teachers were so nurturing and supportive; they put me 10 steps ahead."
— MR
More Alumni News Articles