---
Alumni News
Answering the Call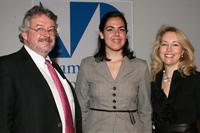 At MDC's Leadership Roundtable, Rachel González, center, introduced Ambassador Joseph Wilson and Valerie Plame Wilson.
Few college students can deftly manage to maintain straight A's and commit time to community service. But for Rachel González, who is blazing through her second year at Miami Dade College's Honors College with a 4.0 GPA, the juggling act comes naturally.
"Community service is fun," González said. "I see it as just another way of expressing who I am."
Selfless Self-Starter
The 19-year-old English major is an old pro at balancing schoolwork with volunteering, far exceeding her graduation requirements in community service hours in high school.
"I usually seek projects that interest me," González said, "or I start one," as she did at MDC's Wolfson Campus during her first semester. Driven to help veterans feel at home both while they are away at war and on campus, González founded Students of the World, a College-sponsored service club that sends care packages to veterans serving abroad while also helping veterans studying at MDC connect with civilian students.
A Sunday school teacher in her spare time, González also started mentoring inner city middle school students at the local chapter of Aspira, a national nonprofit, last semester.
National Merit
In recognition of her outstanding endeavors, González was recently named a Community Fellow by the Pearson Foundation. She also received a scholarship from the national nonprofit.
In addition to volunteering, González is actively involved in student life at Wolfson Campus, serving as senator in the Student Government Association, administrative director of the campus chapter of the International Rescue Committee and executive secretary of Phi Theta Kappa.
González, who is considering law school, credits Miami Dade College for nurturing her potential. "The Honors College helps place you in your niche based on your strengths," she said. "I know for a fact that if I went to another college, it definitely wouldn't have given me as many opportunities."
— MR
More Alumni News Articles