---
Cultural Spotlight
Emerging Artists Thrive at MDC Live!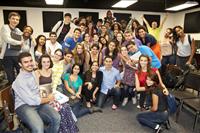 Songstress Sofia Rei, pictured front row center, recently led workshops on Latin American music forms and vocal improvisation with vocal students from MDC.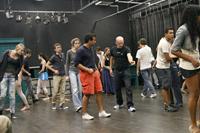 Actor Conor Lovett gave a master class in acting, with a focus on solo performance, for MDC high school and college students.
MDC Live! Performing Arts Series' educational and cultural work continues to blossom throughout the community with a new professional development program for South Florida artists.
Intensive Workshops
As a winner of the annual Knights Arts Challenge, MDC Live! was awarded a grant from the John S. and James L. Knight Foundation to fund this enriching program, which will offer advanced, monthlong, summer-intensive sessions with master artists in diverse disciplines, including acting, playwriting, directing, music composition and performance, dance, choreography and multi-disciplinary work. The College is the only higher education institution to receive an award this year. "There's no other program like this in the area," said MDC Live! Executive Director Kathryn García. "This is a long-term residence opportunity, an entire month of quality time for artists to develop their skills with masters in their craft. Through this program, we aim to expose artists to new approaches and techniques in their respective fields."
Linking Art and Education
This new program is an extension of the stimulating learning opportunities MDC Live! has been creating for MDC students for many years through its ARTSLINK program. Although less visible than the performances, the residency component of MDC Live! is vital to its mission, which strives not only to present excellence in the performing arts, but also to develop future artists and audiences through educational outreach.
Some residencies aim to build new audiences while others provide professional development opportunities to local artists. Others address the social issues explored in the artist's work while still more focus on technique or history.
Help Link Students to Artists
MDC Live! is participating in an exciting new project called power2give.org, a website
enabling donors to give directly to local arts, science and history projects that inspire them. Through mid-March, the John S. and James L. Knight Foundation will match every dollar donated through the site.
MDC Live! has posted a project called ARTSLINK, which connects students of all ages with vibrant, motivating artists through an eclectic mix of interactive experiences, workshops, lectures and master classes.
Check out ARTSLINK at http://www.power2give.org/go/p/494 and share it with others. The donation not only is tax deductible, it also empowers students and future artists to develop their talents and pursue their dreams.
— AMS
More Cultural Spotlight Articles