---
Cultural Spotlight
Teatro Prometeo Unleashes Acrobatic Feats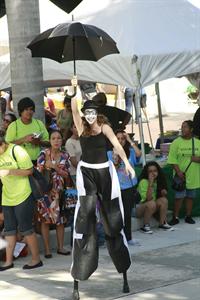 The art of acrobatic stilt performance was the focus of a two-week workshop at MDC's Teatro Prometeo, above and below.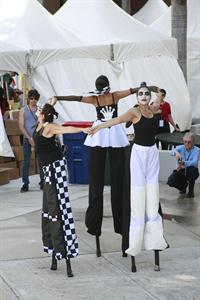 Teatro Prometeo, part of The Center for Literature and Theatre at MDC, continues to expand as a training ground for those seeking a future in the performing arts through its unique master workshop series. This theater laboratory experience provides students with the opportunity to work with professional artists, and in the industry.
Recently, students and graduates from Prometeo's Professional Training Program in Theatre Arts took an intensive two-week acrobatic stilt workshop with Jay Ruby, founder and artistic director of The Carpetbag Brigade.
Established in San Francisco, The Carpetbag Brigade is a physical theater company known for Ruby's unique hybridization of styles, drawing from acrobatic stilts, physical theater, modern dance, circus, butoh and contact improvisation.
"It is important to collaborate with other professionals and create original pieces that can continue to build vital artistic bridges," said Joann María Yarrow, director of Teatro Prometeo.
The collaboration resulted in an acrobatic stilt performance piece titled Jaque Mate (Check Mate), with three popular performances – one for a Sleepless Night Miami event and two at the Miami Book Fair International.
"We have invited a number of talented artists to give master workshops this year," said Yarrow, including Deborah Lake Fortson, a playwright and dramatic mime expert who studied under the legendary Jacques LeCoq in Paris; Lau Lapides, president and founder of Lau Lapides Company, a boutique coaching firm for professional actors, public speakers and voice-over talent; and actor and director Jorge Herrera, from El Instituto Departamental de Bellas Artes in Cali, Colombia.
— HP
More Cultural Spotlight Articles