---
Features
Student Newspaper Ranks Top in State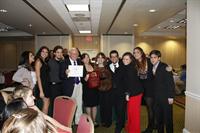 Staff of 'The Reporter' are pictured at the Florida College System Activities Association awards banquet, where the newspaper was named best in the state in its division.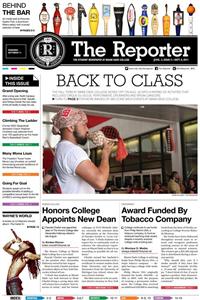 The Reporter was named best community college newspaper in the state by the Florida College System Activities Association.
One year after merging its three student newspapers to form one collegewide paper, The Reporter of Miami Dade College has been named the top community college newspaper in the state.
The Reporter staff placed in 17 of 18 individual categories – including10 first-place awards – at the Florida College System Activities Association awards banquet. The competition was based on newspapers printed during the 2010-11 school year.
Exceptional Staff
"Getting to lead such a great staff that placed first in the state is a blessing – they work very hard day and night," said Monique O. Madan, editor-in-chief of The Reporter.
"Seeing the look on everyone's face was a priceless experience. I have the utmost faith that The Reporter will only do better as we reach higher levels."
Three student reporters from Miami Dade College received inner circle awards for placing in the top three in at least three categories. Photographer Gregory Castillo won four first-place awards for News Photo, Feature Photo, Sports Photo and Picture Story; Castillo also won a second-place award in the Sports Column category.
Madan won two first-place awards in the News Story and the Editorial categories, and third-place for In-Depth Reporting. Lázaro Gamio won a first-place award in Illustration, a second-place award for Design and a third-place award for Editorial Cartoon.
Passion to Excel
"Student journalism is alive and well at MDC," said Manolo Barco, media advisor to The Reporter. "Our students have a hunger and passion to be the best. We are proud of their accomplishments, and we look forward to seeing them use this as a starting point to reach even higher platforms."
The Reporter has a circulation of 10,250 and is supplemented by a website with video and audio content. It is distributed at all of MDC'seight campuses and has newsrooms at North, Wolfson and Kendall campuses.
— AMS
More Features Articles