---
Features
White House Commends Educational Leadership at MDC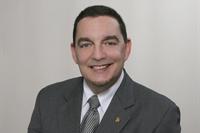 North Campus President Dr. José Vicente has been honored as a White House Champion of Change for his role as an education leader in the community.
Miami Dade College North Campus President Dr. José A. Vicente was recently honored as a White House "Champion of Change" for his vital role in the community as an education leader who is helping America rise to meet the challenges of the 21st century.
Vicente and MDC were recognized by the White House for their strong partnerships with high schools, four-year colleges and employers, which create a multitude of opportunities for individuals in the community.
Collaborative Work
"It's a great distinction for the College. Everything we do at MDC is truly a collective effort," Vicente said. "This honor recognizes what this institution is all about: that we're always on the forefront of innovation and exploring ways in which we can maximize the educational and training opportunities of those we serve."
Participating in a roundtable discussion on the positive impact of community colleges across the nation, Vicente had the opportunity to travel to Washington, D.C., to meet with other honorees and Cabinet undersecretaries.
Exceptional Model
Vicente credited his success as an educational leader to the outstanding model that has been established by MDC President Dr. Eduardo J. Padrón.
"Recognitions like this are made thanks to the example Dr. Padrón has set for all to follow," he said. "I consider Dr. Padrón a great mentor and someone who has helped shape my own vision."
— AMS
More Features Articles