---
Features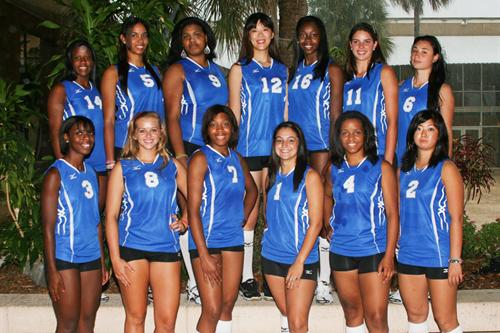 Lady Sharks Are Victorious
Miami Dade College's women's volleyball team enjoyed a phenomenal season of victory, winning the National Junior College Athletic Association (NJCAA)'s Atlantic District Championship and state championship.
MDC's Lady Sharks, ranked No. 2 in the nation in an NJCAA preseason poll, climbed their way to the top with a win against Polk State for the district championship before moving on to defeat the College of Central Florida to win the state competition. In addition, Head Coach Kiko Benoit was named Coach of the Year by the Florida Community College Activities Association.
Ready for More
"We had a great season," Benoit said. "These kids are returning next year, hungry to come back to the court, work even harder and do even better next year."
The Lady Sharks' success comes as no surprise. The College has won a total of 33 NJCAA titles, including 13 in women's sports. In its history, the volleyball team has won 37 state championships and seven national championships since 1969.
Earning Accolades
Several team members were recognized for their incredible efforts throughout the season:
• Marifranchi Rodríguez: First Team ABCA All American, First Team All American, All Tournament Team Player/1st Team Southern Conference, All State Southern Conference, Tournament MVP/Conference Player of the Year, state Player of the Year
• Britany Spencer: All Tournament Team Player/1st Team Southern Conference
• Yukie Futami: All Tournament Team Player/1st Team Southern Conference, All State Southern Conference
• Suramys Acosta: All Tournament Team Player/1st Team Southern Conference
• Rosan Rivera: 2nd Team Southern Conference
• Latrice Johnson: 2nd Team Southern Conference
— AMS
More Features Articles