---
Powerful Partnerships
Preparing Students for Top Careers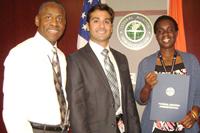 Pictured from left are FAA Technical Operations Manager and MDC alumnus Darrell Roberts, Engineering Chair Dr. Miguel Alonso and Kedar Souffrant.
Over the years, Miami Dade College has established and maintained valuable partnerships with local and national organizations to help students attain employment and meet the demands of today's workforce. As a result of these partnerships, MDC students have gained beneficial training that has given them a competitive advantage compared to their peers when applying for jobs.
Straight From Classroom Into Job
Among them, Kedar Souffrant, a stellar student in MDC's renowned School of Engineering and Technology, was recently selected by the Federal Aviation Administration (FAA) for its Technical Operations – Collegiate Training Initiative (TO-CTI) program. The prestigious program will enable Souffrant to work part time as a technical operations intern at an FAA facility in Miami for the duration of her studies at MDC. Upon successful completion of the program and graduation, Souffrant will be eligible for a full-time, entry-level position as a technical specialist with the FAA.
"The School of Engineering and Technology is thrilled to place Kedar into the FAA program, which offers her additional training, a paid internship during the remainder of her studies and a direct pipeline into an FAA career," said María Poviones-Bishop, the school's director of Industry Relations. "Opportunities like this one are the perfect complement to the college's world-class curriculum and instruction."
Multidimensional Preparation
Souffrant, who is pursuing two degrees in electronics engineering technology and computer engineering technology, said the program will expose her to a wide variety of skills in various departments. She will have the opportunity to learn about computer services and networks; radios, transmitters and receivers; navigation equipment; and even circuit breakers and power generators.
"Previously, I applied to many jobs that are related to what I'm studying, only to be told I don't have enough experience," she said. "That definitely won't be the case once I complete the FAA training program. I am so thankful to the College's Engineering Department for making this happen."
Collaborative Efforts at Work
The FAA training program is just one of several MDC partnerships with an exceptional track record of successful student hires. Others include:
• Florida Power & Light (FPL) Nuclear Maintenance Apprentice Training Program
• FPL/Nuclear Energy Institute's Nuclear Uniform Curriculum Program
• Hospitality Institute's Job Readiness Training Workshop
• Disney College Program
— AMS
More Powerful Partnerships Articles