---
Powerful Partnerships
Prestigious Grant Enables Expansion of Training Program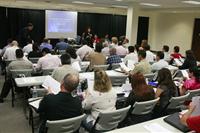 Small business owners and entrepreneurs gain valuable tax information at a workshop presented by the Small Business Education Program through MDC's School of Business.
MDC's School of Business at Wolfson Campus will expand its highly beneficial training project for small business owners and potential entrepreneurs thanks to a grant from Citi Foundation.
The grant will help the College extend its community outreach efforts by recruiting participants from low- to moderate-income areas and offering workshops in English and Spanish. The free workshops will cover topics such as finance and accounting, credit options, marketing and selling techniques, management operations and the benefits of green certification.
Forum for Entrepreneurs
In the past five years, the Citi Foundation has awarded the School of Business several grants to be used for similar entrepreneurial-based programs mostly targeted to small business owners. This year's project will target businesses and potential entrepreneurs from Overtown, Allapattah, Downtown Miami and specific areas in Miami Beach, culminating in a Small Business Forum that will welcome current and prospective small business owners to learn about products and services that can assist them, in addition to breakout sessions on helpful topics of interest.
Additional Coaching
"This particular year will be innovative since our approach will be to offer more coaching to small businesses and discuss additional topics, such as insurance and human resources compliance," said Dr. Ana M. Cruz, chair of the School of Business at Wolfson Campus who wrote the grant proposal. "Citi Foundation believes in us, and we believe in what we are doing for our community."
The Citi Foundation grants awarded since 2007 have enabled the School of Business at MDC to offer free workshops to more than 200 entrepreneurs in the fundamentals of operating and sustaining their businesses.
— AMS
More Powerful Partnerships Articles