---
Powerful Partnerships
MDC Gives Boost to Small Businesses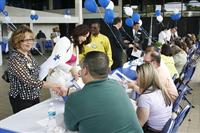 MDC's Minority and Small Business office regularly hosts outreach events in order to get small business owners acquainted – and, ultimately, registered – with the College.
Miami Dade College is renowned for opening the doors of opportunity for its students. Now, thanks to the College's significant efforts to do business with small local vendors, MDC is also opening doors for community businesses more than ever before.
Through its Minority and Small Business Enterprise (MSBE) Office, MDC has implemented the Small Local Business Enterprise (SLBE) Initiative, a streamlined policy and procedure for ensuring that local and small businesses – which are often minority-owned – get the opportunity to bid on contracts or offer their services to Miami Dade College.
The results have been astounding: 32 percent of vendor contracts awarded by the College in the past fiscal year went to SLBE vendors.
"What we want to do is change the culture," said SLBE Coordinator Sheldon L. Edwards. "We want small and local businesses to be a 'before' thought, not an afterthought. The only way to do that is to make people aware."
Any small, local business seeking to become an MDC vendor can apply for certification online. Once MDC compliance checks are complete to ensure that criteria are met, vendors are then certified as SLBEs.
"Many colleges encourage local and small businesses to do business with them," Edwards said, "but few have any procedure in place to ensure that they do."
Indeed, Miami Dade College was the first college in Florida to turn intent into action by creating the MSBE Office, which actively reaches out to small-scale vendors and even requires larger contractors to have at least 25 percent of their subcontractors on major construction jobs be small and local businesses.
— MR
More Powerful Partnerships Articles