---
Powerful Partnerships
CLACI Fosters High-Level Discourse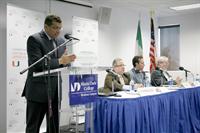 International experts in the panel discussion "Mexico's Security Crisis."
Miami Dade College's Center for Latin American and Caribbean Initiatives (CLACI) remains steadfast in its mission to strengthen intellectual, cultural, political and socioeconomic ties to the Americas.
In collaboration with the University of Miami's Center for Latin American Studies (CLAS), CLACI recently presented "Mexico's Security Crisis," an engaging and timely lecture and panel discussion on the violent drug wars currently raging south of the border.
Internationally renowned Mexican security expert and El Colegio de Veracruz Director Jesús Alberto López González led a panel comprised of CLAS Director Ariel Armony, MDC Wolfson Campus Social Sciences Department Chair Dr. Víctor Vázquez Hernández, and UM Chair of International Studies Bruce M. Bagley. Moderated by CLACI Director Carlos Barrezueta, the panel reviewed the monetary, political and diplomatic costs of the Mexican security crisis as well as its effects on the U.S.-Mexico border.
"Social scientists refer to borders as borderlands because they really comprise a region rather than a dividing line," said Vázquez Hernández. "Going after the drug trade in an area that has operated in a certain way for hundreds of years is much more complex than most might imagine."
Speakers compared Mexico's current approach to the war on drugs and that employed by Colombia in the 1990s. They also addressed its influence on U.S. drug policy.
"Discussions such as these provide a vital service to the community by opening a dialogue around subjects that don't always get the kind of attention they should," said Vázquez Hernández.
— HP
More Powerful Partnerships Articles