---
Powerful Partnerships
Meek Center Event Inspires Entrepreneurship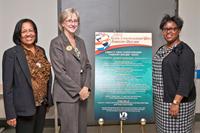 From left, Joan Robertson, CEO of Robertson Forwarding Company; Diana Lewis, director of MDC Eig-Watson School of Aviation; and H. Leigh Toney, director of MDC's Carrie P. Meek Entrepreneurial Education Center, were all speakers at the Center's Industry Outlook workshops.
The Carrie P. Meek Entrepreneurial Education Center's observance of Global Entrepreneurship Week 2011 focused on key industries that drive the Florida economy. The week's theme, "Industry Outlook," paired key
Miami Dade College educators with successful entrepreneurs to highlight educational and entrepreneurial opportunities in aviation and international trade, film and entertainment, and construction and retail.
The Industry Outlook series, which was free and open to the public, featured economic analysis and entrepreneurs, who shared insights into their businesses and tips for successfully navigating tough economic times.
Building Connections
"The goal of this year's events was to highlight pathways into strategic industries while placing students and the public in direct contact with entrepreneurs who are succeeding in their various industries despite the challenging economic climate we're facing," said H. Leigh Toney, executive director of the Center.
"The Meek Center is shining the spotlight on small and local businesses and uses the Global Entrepreneurship Week activities to give our students a concrete roadmap to pursuing their entrepreneurial ventures," said Dr. José A. Vicente, president of MDC's North Campus.
Industry Insight
The Industry Outlook series highlighted a different industry each night, starting with aviation. Florida ranks second among states throughout the nation for aviation-related businesses, with nearly 2,000 companies employing 83,800 workers, said Diana Lewis, director of MDC's Eig-Watson School of Aviation. Lewis was joined by industry professional Joan Robertson, president of Robertson Forward Co., which specializes in global logistics. Started in the late 1960s, Robertson oversees a family-owned company specializing in shipping and forwarding goods around the globe.
The National Association of Black Women in Construction headlined the series another evening and, despite the dramatic downturn in revenue that the construction industry is experiencing, Shirley Everett, owner of Everett Painting, expressed optimism in being able to find work through municipal projects in airports, ports and other governmental facilities.
"The women were impressive in their creativity and ingenuity, and the students were definitely impressed by their grit and determination," Toney said.
Molding the Workforce
Barry Gordon, director of MDC's School of Entertainment & Design Technology, was paired with Lyndale Pettus, a local producer and consultant who has worked on major film projects in South Florida's burgeoning film industry. Gordon described the unique features of the College's new bachelor's degree in Film & Television Production. The MDC film school prepares students in studios and editing rooms that rival those found in professional settings.
Capping off the series, the final evening focused on retail and the growing movement to encourage consumers to support small and locally owned businesses, a philosophy that MDC wholeheartedly stands by not only in words but also in actions.
— Staff Report
More Powerful Partnerships Articles